Please Note: This is the ONLY Official Paly All-Alumni site although other sites may make such claims.
Older Paly Alumni sites have been disbanded and replaced with this new site.

Upcoming events:
SUNDAY, AUGUST 8 - 11:00am at Hod Ray Field - followed by no-host lunch gathering at 1:00pm Rossotti's/Alpine Inn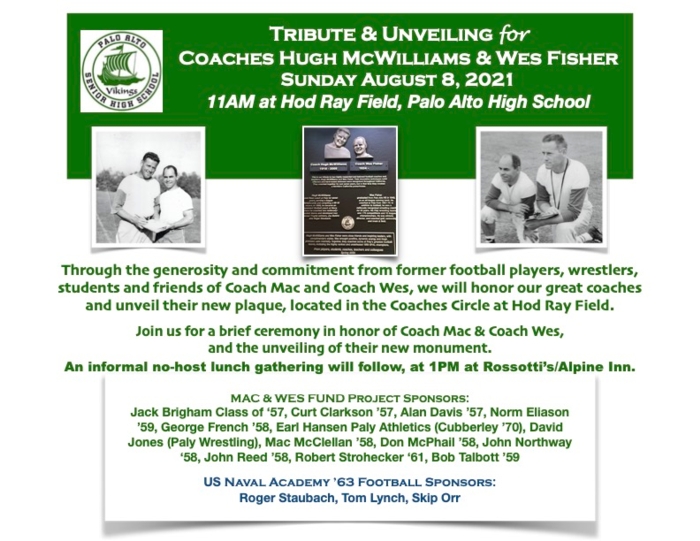 PALY REUNITES FOR IN-PERSON GRADUATION - 2021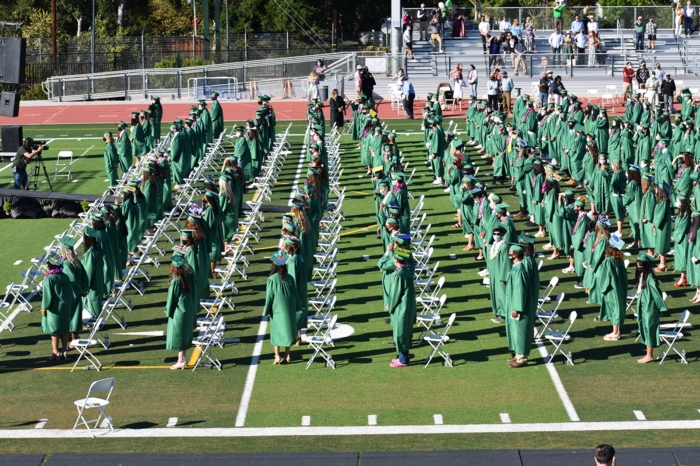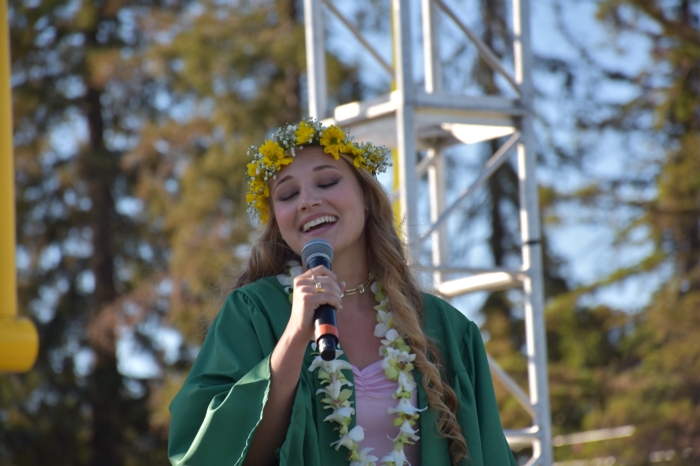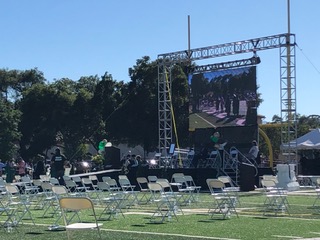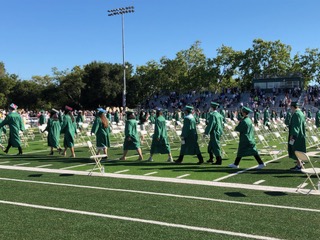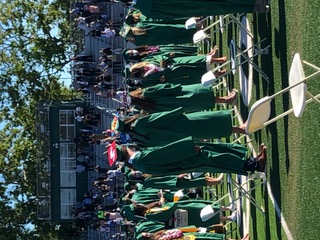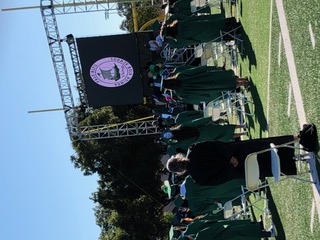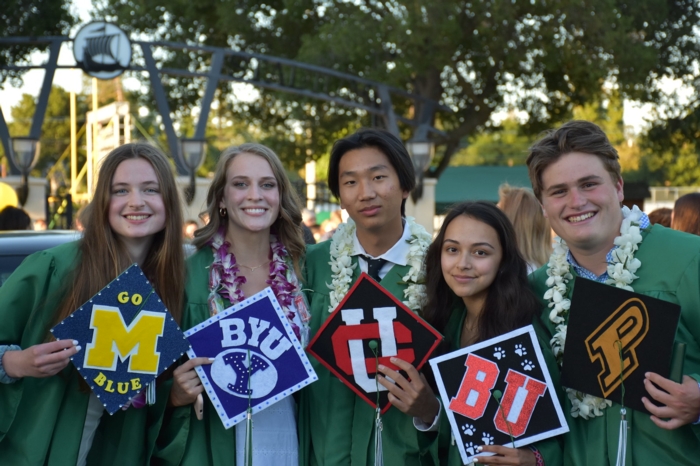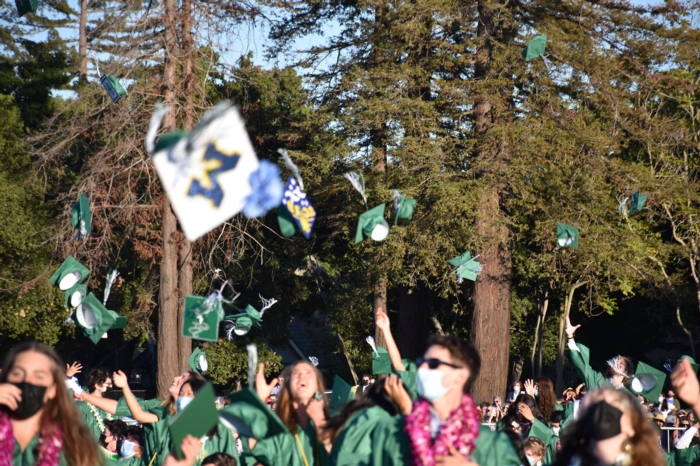 For the first and last time, Palo Alto High School's graduating class of 2021 came together to celebrate a most unusual high school journey with a graduation ceremony Wednesday afternoon, June 3rd at Viking Stadium.
Providing the graduates with a more natural sense of closure to their years at Paly, the ceremony marked the first time that the class of 2021 was able to come together since the shut down in March of 2020 and the 2021 Madrono yearbook appropriately was entitled "WE DID IT!". While the ceremony was televised locally, guests could view it on a large screen situated near the goalposts as the graduates entered onto the field to the traditional strains of Elgar's, Pomp and Circumstance performed by the Paly Band. Several short speeches were given by the new principal, the Student Body and Senior Class Presidents along with presentations of taped musical performances.
In her graduation speech, ASB President, Avantika Singh described the perseverance of the class of 2021. "I don't think anyone thought this is what our final year would look like. While it started quite boring for most of us with shelter-in-place and online classes, I'm glad it's ending like this. Honestly, it's amazing how far we've come."
In an address to the class, their new Principal, Brent Kline addressed the extraordinary spirit of the graduating class in these most difficult of times.
"I just want to say congratulations, and what an enormous event that we are involved in at this particular moment," Kline said. "It's been a long road, but today, I think that makes up for it. For everything that we've done, for everything that we've been through, for the pain, but most importantly this is the beginning of reconnection because we've all been separated for way too long."
Closing out his address Kline paid tribute to the class of 2020, who never experienced an in-person graduation ceremony due to the pandemic.
"I hope you are grateful for being able to sit here in the stadium, six feet apart, with your four family members in pods a hundred feet away," Kline said. "The class of 2020 never got that."
Paly's student speaker, Jonathan Sneh used Spikeball — a popular game seen on campus — to represent the amazing Paly community.
"Our community is strong, and anyone can feel welcome and be a part of it, just like with Spikeball," Sneh said. "I can come up to anyone with a ball in hand and ask them if they want to play and we'll be rallying in seconds."
Representatives from the Class of 2020, former ASB President, Pooja Akella and former Senior Class President, Frida Rivera were guest speakers providing graduates with a word of advice.
"Don't view graduation as a closure," Akella said. "View it as a chapter in an unfinished book, waiting for you to write the next chapter."
Following Akella and Rivera's speeches, graduates were called up on stage to rousing applause from friends and family receiving their diplomas without the traditional handshake.
Senior class president Emma Lin gave some final words to the group of 523 graduating seniors. "Thank you to all the people who have shone some light into our lives for the past four years," Lin said. "Class of 2021, I'll keep my expectations low and my hopes for you high."
Following graduation, a Grad night party was provided for the seniors by their parents who have also organized a Senior Prom slated for June 5th.
The many decorated mortar boards showed grads headed to BYU, CU, Loyola Marymount, Michigan, Oregon, Princeton, SJ State, USC, Washington, Wisconsin and Xavier among others. An official representative of the US Navy accepted one Paly graduate into the prestigious U.S. Naval Academy in Annapolis, MD.
Article contributors: Edith Miller, President of Alumni and Friends of Palo Alto High School; writers for the Paly Voice: Daniel Garepis-Holland, Maia Johnsson and Benjamin Grimes.
"The end then of learning is to repair the ruins of our first parents by regaining to know God aright...." John Milton

LETTER TO ALL ALUMNI
February 2021
Hello Paly Vikes Alumni,
First, let's hope for a better 2021 for the whole world!! For us, we hope Paly Alumni reunions and other activities can resume in the fall. Until then, take time to enjoy your wonderful website. As of now, Palo Alto High School will not hold regular classes this school year. I know this is very hard on the students because my two Paly grandchildren (one, a senior) have told me regularly how much they are missing actual school. For this school year, Staff is developing alternate small safe gatherings and a graduation of some sort. Plans change daily so best to check the Paly.net website or Palo Alto Weekly online.
Except for reunions, Paly Alumni is open and WE NEED YOUR HELP with donations to support the following projects.



$3,000/yr. for the PALY JOURNALISM DIGITAL ARCHIVE SITE accessible through the alum website. Check out and/or download past publications including yearbooks and Campaniles from way back to the present. A valuable resource. Without funding, the Journalism Archive Project will be completely removed.
$10,000 for 10 new picnic/work tables on campus. Paly Admin has requested more of the heavy metal tables with attached benches so students can work safely outdoors.
All donations are tax deductible.
You can easily donate to our nonprofit. To the right on the Homepage of the palyalumni.net website you'll see boxes where you can click on "Donate" for the item of your choice. Or select the Menu item, "Donate" at the upper-right on the Homepage and it will take you to the Donation Page to donate by check or credit card*. *PLEASE NOTE: A 5.9% processing fee will be applied to all credit card transactions reducing the total amount of your gift. Please allow for the difference when making your donation, or if you prefer, mail a check. You will need to join our website in order to donate via credit card. If you have not joined the site, we invite you to do so. (see First-Time Visitor Instructions on the Home Page). Our site is free and very secure.
Please make checks payable to:
Alumni and Friends of Palo Alto High School
mail to:
Alumni and Friends of Palo Alto High School
50 Embarcadero Road, Palo Alto CA 94301
Please note on your check the project of choice for your donation, i.e. "Scholarships", "Alumni Assoc.", etc.
We thank you for your ongoing support of Paly and the Alumni. Additional donations for the projects outlined above will be much appreciated by Paly students, staff and Alumni.
Go Vikings!!
Sincerely,
Edith Kirk Miller '63, Alum Chair, and the Paly Alumni Board
Find history, pictures, articles from old Campaniles, Madronos, and more...


to access Paly Journalism Archives info click here, or click on Menu item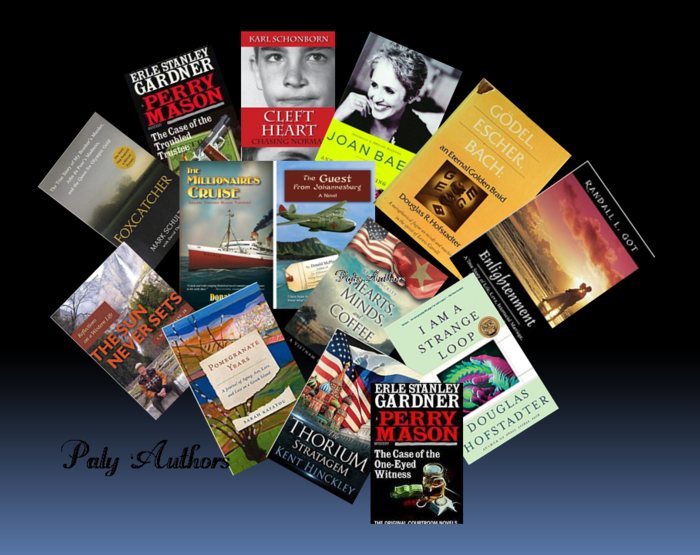 See new Menu item, Paly Alumni Authors for publications. The list includes authors who've opt-in by submitting their information to be added to the site through the Contact Us item on the Menu.
If you would like your publication(s) listed, please provide the following information: Author name, graduation year, Publication/Book Title and link to your website and/or link to where the book can be purchased. You may also include a photo (optional). When you're information is received, a private email address will be provided where you can send a photo (head-shot) to accompany your posting.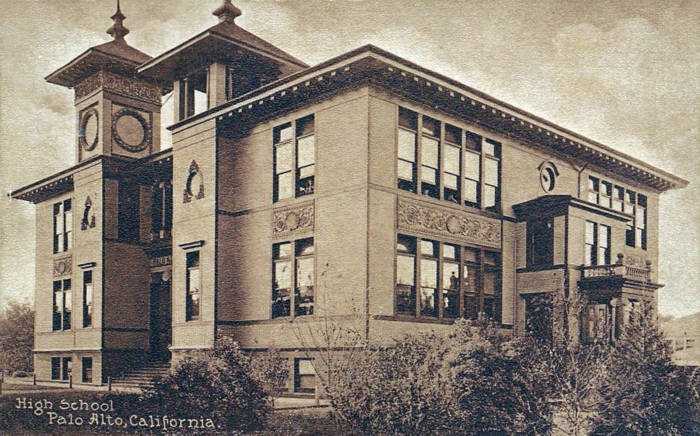 Old Paly High School - Channing Avenue 1918
PALY - then...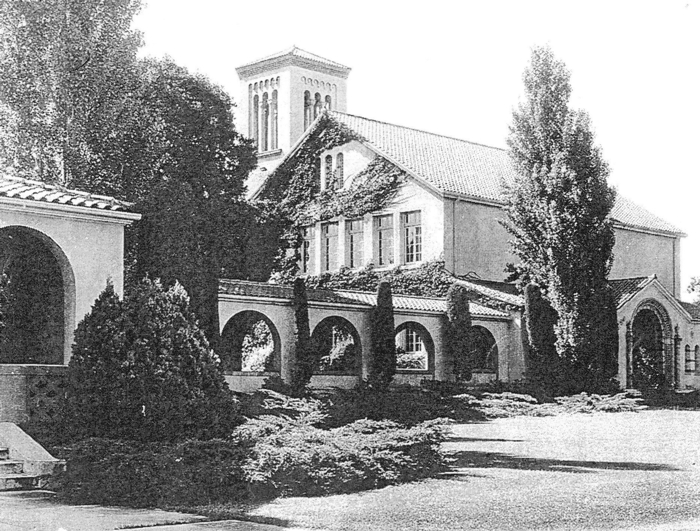 PALY - now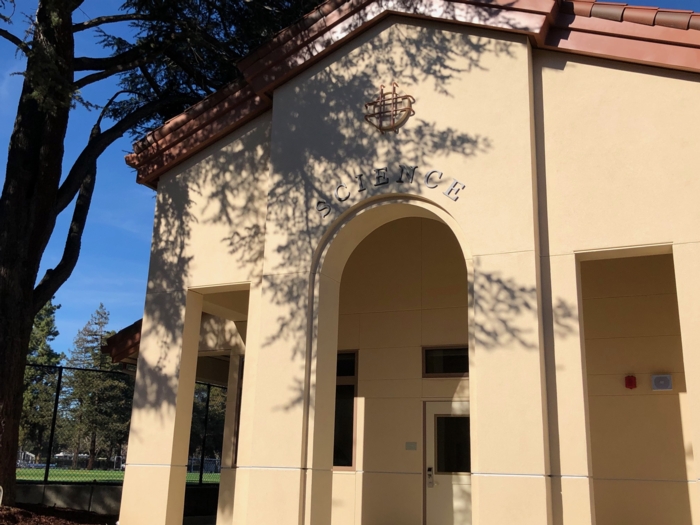 The new SCIENCE BUILDING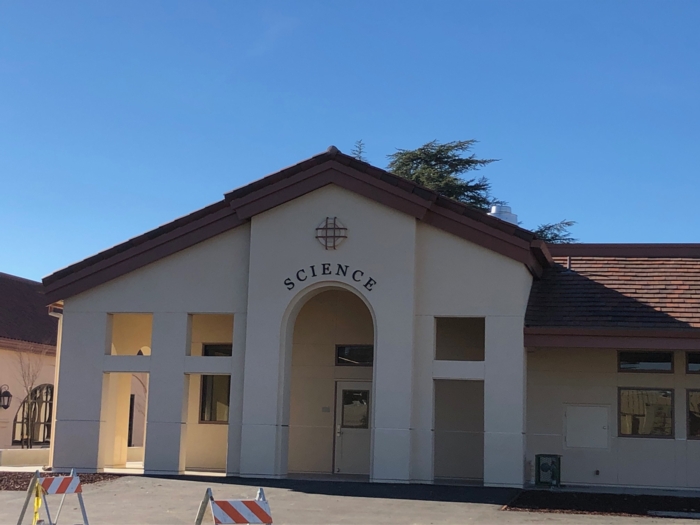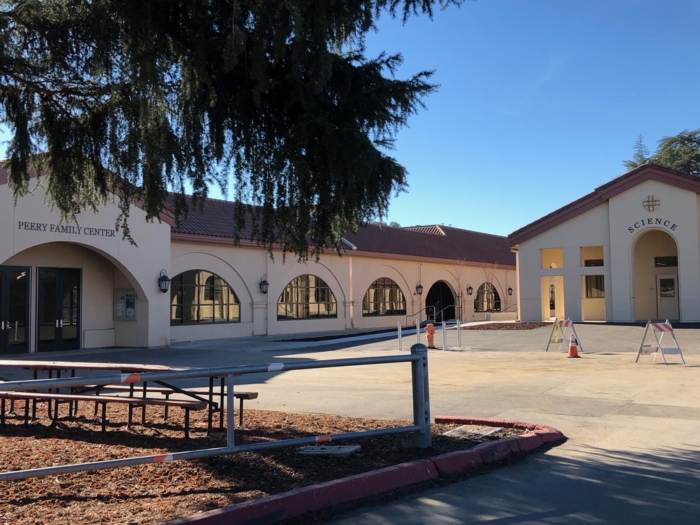 The new SCIENCE BUILDING
Click here > Campus Updates to see more photos and slide shows.

NEW LIBRARY - OPENED March, 2019
Ribbon cutting ceremony with Librarians, Principal and students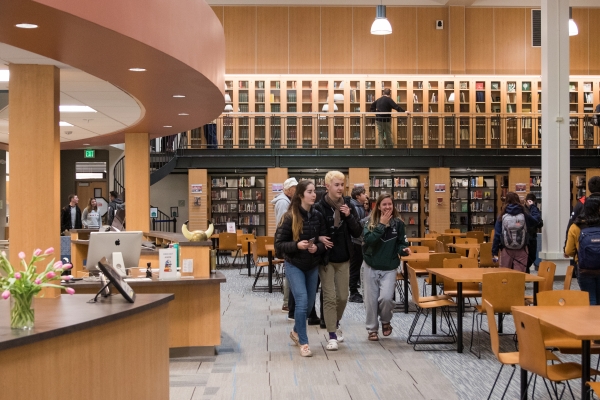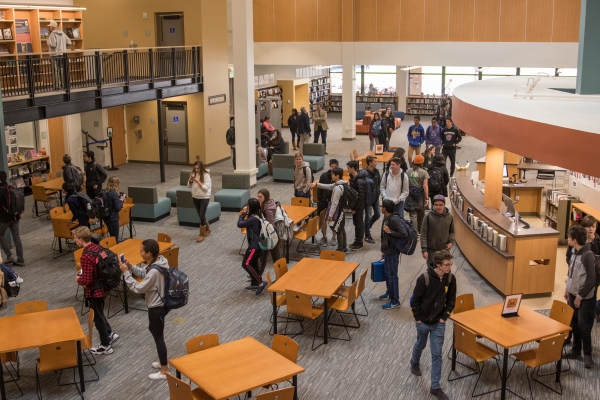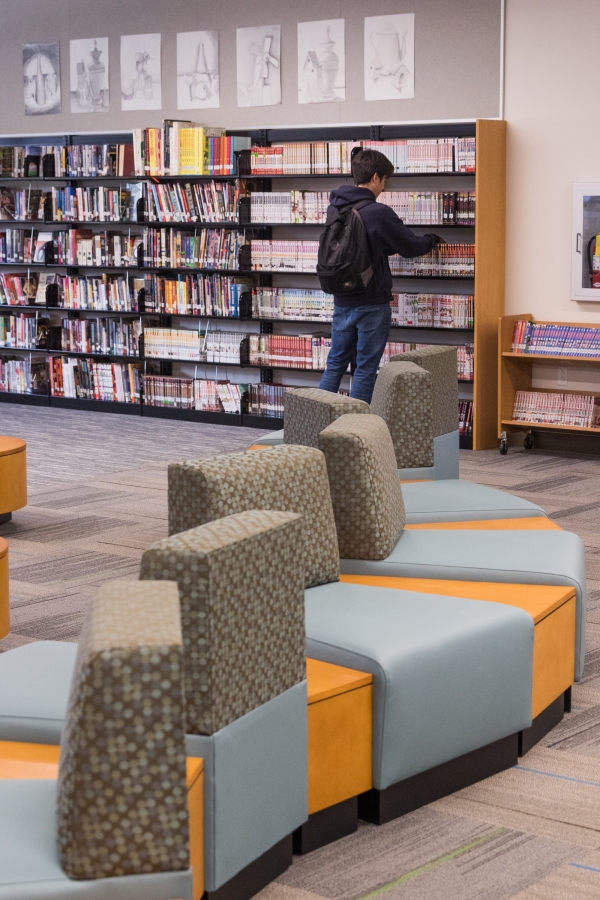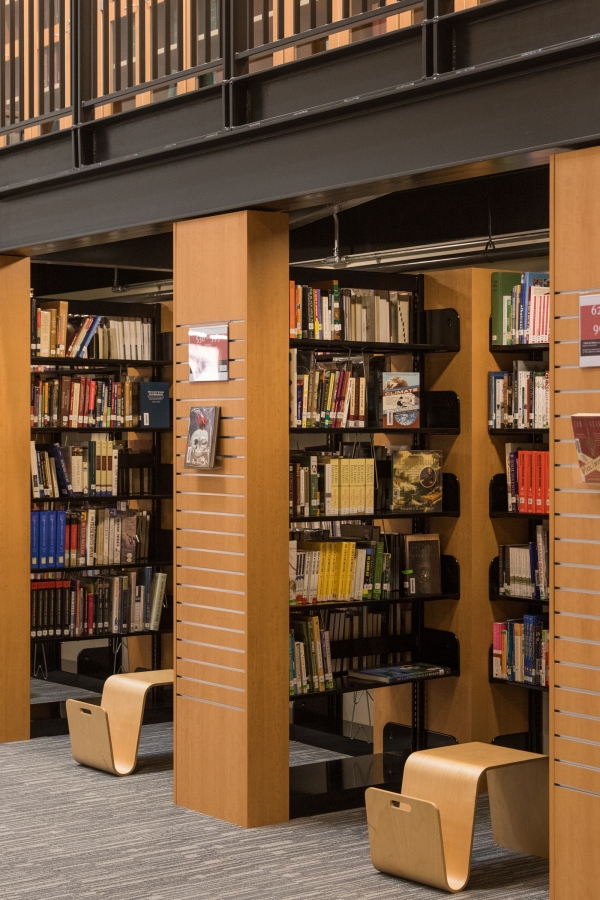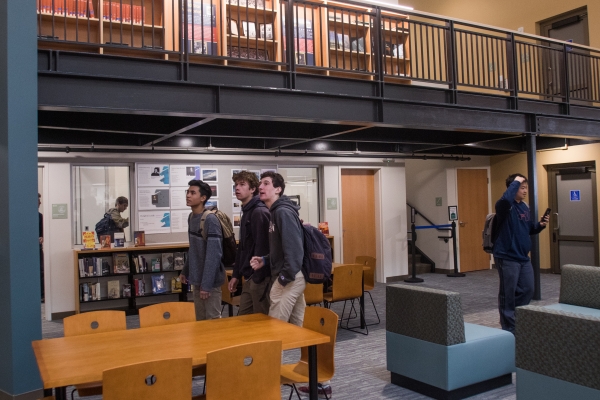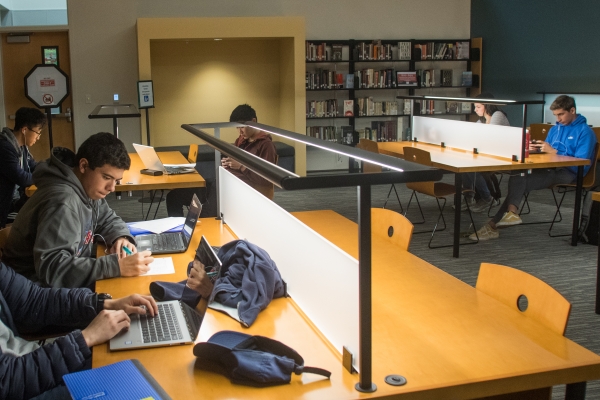 Silent Study Room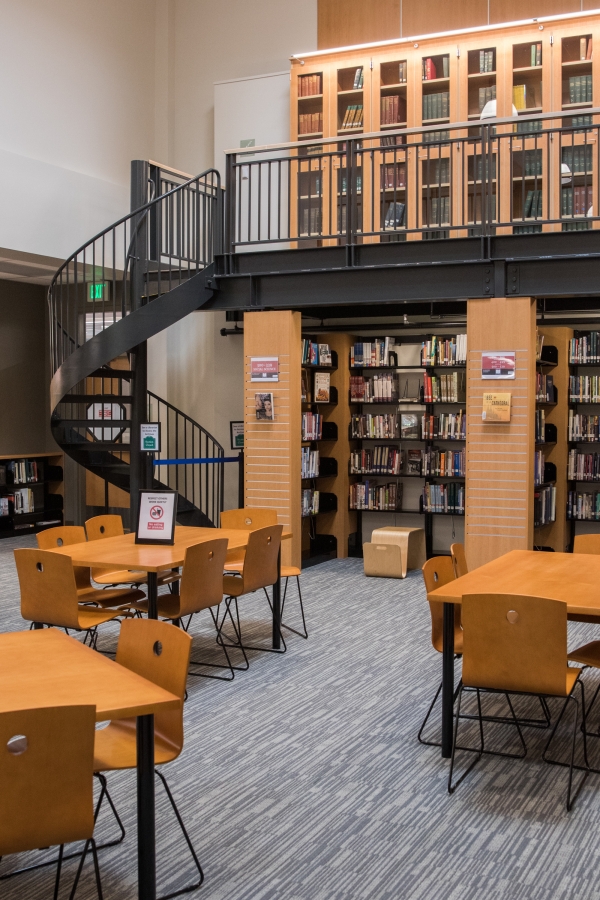 The newly renovated library provides a mezzanine with plenty of room to study.
******************************************************

For Paly's website click on link: http://www.paly.net/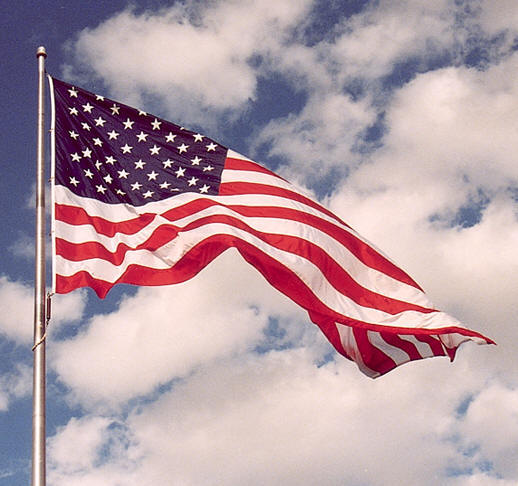 The Land of the Free because of the Brave

Thanks for coming.... See you again soon!!!