WATCH for more interesting Paly History notes during the upcoming Centennial Year...
A Brief History of Palo Alto High School
Palo Alto High School opened its doors in 1894 as a private school with three teachers, twenty-four students, and tuition of $6 per month. Classes were held in two upper rooms of the Channing Avenue Grammar School. Three years later trustee (and parent) Anna Zschokke mortgaged her home and donated funds to build a three-room high school at 524 Forest Avenue near Cowper Street. Thus began the legacy of the extraordinary parent support for Paly that continues today.
In 1900 a $200,000 bond issue was authorized and a new high school was built at Channing and Webster Streets where Channing House now stands. The school's colors were red and green (until 1949 when they changed to green and white). By 1907 Paly had grown to a school of 200 students and 9 faculty members.
In 1908 the first girls' athletic team (basketball) was formed. In the same year, the school board banned dances in response to adverse publicity about student morals. Not to be deprived of an outlet for their teenage energy--typical of Paly students--they found an alternative; twenty students formed a band in 1911 and marched for the first time in the May Fete Parade. The Paly Band has participated in the parade ever since.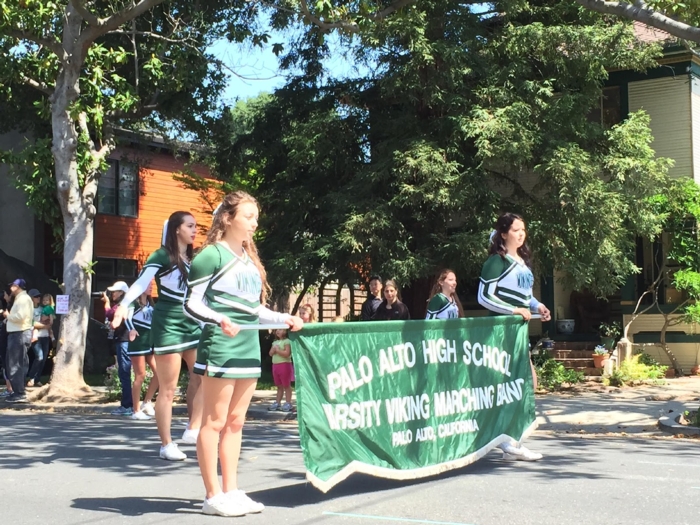 MAY FETE PARADE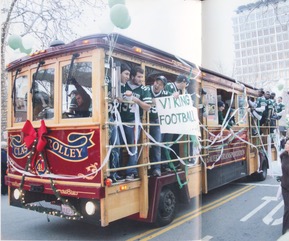 PARADE 2011
In 1913 the Palo Alto PTA was formed with Mrs. Mary Green as President. Local news of the day tells us that our girls were active in The Suffrage Movement. In 1917 Palo Alto voters authorized a $200,000 bond to build a new high school, and in 1918 the new campus at the corner of Embarcadero and El Camino Real was completed. On December 24, 1918 the entire staff, student body, and school board proudly marched from the old Channing site to the new campus. (The original photograph of this momentous occasion is hanging in the Tower Hallway --see below.)

The student newspaper, THE CAMPANILE, appeared for the first time the same year. During the 1920s, Paly's population doubled. In 1921, Howard (Hod) Ray, the legendary Paly Football Coach joined the staff. The Student Betterment Committee was organized to improve the school grounds, and other student clubs flourished. A group of students formed the "Overalls Club" in protest of the high price of clothes. (Nine faculty members and nearly 150 boys wore overalls every day for a time.) This diverse assortment of student interest is evident in Paly's more than 60 clubs today.
The community continued to grow. Subdivisions sprang up south of Embarcadero Road bringing thousands of new families to Palo Alto schools. The Elwood P. Cubberly and Henry M. Gunn High Schools were built. Paly is undergoing major remodeling leaving only the Tower Building and the Theater of the original campus.
Traditions continue to be established, notably Paly's much-loved Spirit Week which started in 1981. In 1997, on the 100th anniversary of the founding of Paly, Alumni and Friends of Palo Alto High School was formed, providing support for Paly through scholarships, fundraising, reunions, and more.
There are more than 100 years worth of photos and memorabilia on display in the Tower Building Hallway.