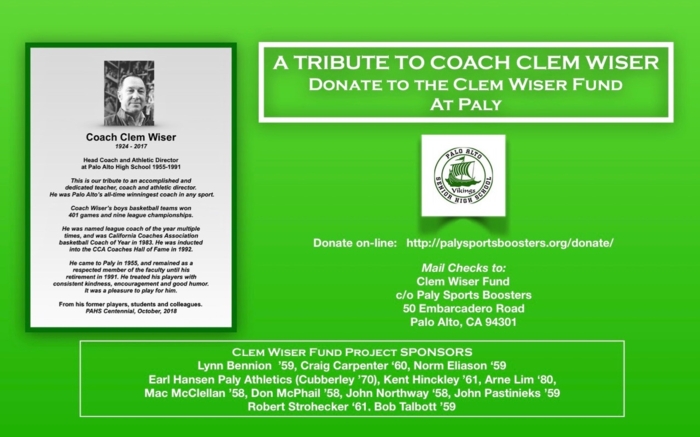 Dear Paly Alumni,
Thanks to your earlier enthusiastic support, Paly has approved a major tribute to Coach Clem Wiser.
We are asking for donations in order to create and install a fitting monument to Coach Wiser, not within the gymnasium, but at popular Hod Ray Field. With the cooperation of Palo Alto High School and the Paly Sports Boosters, a 501(c)(3) nonprofit organization affiliated with Paly, we are requesting your financial support.
We need to raise $10,000 for design, production, preparation, installation and maintenance of this 4-foot high tribute to our coach, teacher and friend. Remaining funds will be placed in a Clem Wiser "Safety Net" Fund, dedicated to assist underprivileged Paly athletes (guys and gals) in all sports programs.
Donations are tax deductible and will be deposited in the Paly Sports Boosters account, designated for the "Clem Wiser Fund." [Paly Sports Boosters - A non-profit organization - 501(3)(c) - Tax ID#77-0218566]
Guided by a School District policy that prevents the naming of anything within the new Peery Family Center, Paly approved our proposal of a sculpted bronze plaque with Clem Wiser's likeness, to be prominently displayed in a heavily trafficked area at Hod Ray Field. Every day students and visitors pass by the "Coaches Circle" near the entry where a similar monument for Hod Ray is on display.
This will be an elegant bas relief 18" X 24" bronze plaque with a 1" raised image of Coach Wiser accompanied by a tribute from his former players, students and colleagues. Like the Hod Ray Monument, the pedestal is four feet high and two feet wide.
Our tribute will be unveiled in October, 2018 as an important part of Paly's Centennial celebration.
Please donate on-line at http://palysportsboosters.org/donate/ Be sure to check box for Clem Wiser Fund
…or send a check made payable to Paly Sports Boosters/Wiser Fund and mail to:
Clem Wiser Fund
c/o Paly Sports Boosters
50 Embarcadero Road
Palo Alto, CA 94301
Many Thanks! Send questions to dmacinfo@comcast.net
Clem Wiser Fund Project Sponsors
Lynn Bennion '59, Craig Carpenter '60, Norm Eliason '59, Earl Hansen Paly Athletics (Cubberley'70), Kent Hinckley '61, Arne Lim '80, Mac McClellan '58, Don McPhail '58, John Northway '58, John Pastinieks '59, Robert Strohecker '61, Bob Talbott '59